Today at the 2009 New York Comic Con, the folks from Mattel reveal new details for theit Masters of the Universe Classic line along with other online exclusives they will be offering in 2009. Mattel's toy designer Bill Benecke and marketing brand manager Scott Neitlich along with the Four Horsemen are on today's panel.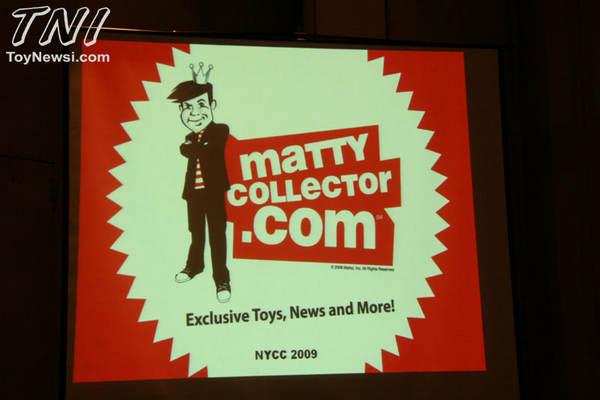 - MOTC, Ghostbusters, DCUC – all by 4 Horsemen
- Retail space limited in most stores, often devoted to movie lines, Matty lets Mattel get wanted product to the fans such as single figures instead of waves with definite release dates
- Everything on Matty is an exclusive. Any future releases will be different.
- New 2-packs every quarter
- Retail wouldn't take He-Man at this point so Mattel went ahead with online sales
- Merman comes with both heads
- Merman, Zodak, Hordak, Man-at-Arms with 2 heads, dagger, blaster and staff an maybe a bonus accessory
- Tri-lops aug 15th
- Ghostbusters – the 12 inch body is patented and the Movie Masters will expand beyond GB.
- Peter and Zedmoore done but not approved so can't show. There are plans for a giant Stay Puff Man monster.
- Matty is working on allowing a subscription program to allow combining orders to save on shipping. Figures could either be sent once a year en mass or automatically regularly each month.
- 12 inch GB will be $60, 6 inch $20.
- MOTC is selling very well so Mattel is looking at expanding the line.
- No plans for polling fans for the 2 packs yet, but it's a possibility.
- He-Man mini-comics may be re-released as a graphic novel.
- Matty ships internationally and a foreign distribution center may be opened in a particular country if there is enough sales there. Germany, for instance, as exhibited a high demand.
- The 2 packs might include a C&C figure over the year of 4 releases.
- There will be a DCUC at SDCC exclusive that will be "amazing" and "cool".
- There will be some Skeletors available at SDCC. If he is offered online again, there will be some change to the packaging, but the figure will be the same. -- A re-release would probably be at least 8 months after the first run.
- King Greyskull will probably be re-released though with a different, less impressive packaging.
- The He-Man SDCC exclusive may also have a chase variant.
- Fuzzy Mossman will be fuzzy. They're talking about scenting him, but it's unlikely.
- Princess Power and New Adventures are available to be included in this line.
-A director has been signed for the feature film. More animation, either straight to DVD releases or on TV is possible.
- Battlecat will happen – in 2010.
- More female characters planned for 2010.
- Panthor won't be far behind Battlecat. He may be flocked in purple.
- There is still no access to original Filmation characters.
- He-Man works for Mattel cost wise because they can reuse the molds. That makes characters like Modulok hard to do.
- If the movie happens and there is retail support, then characters like Modulok can happen.
- Accessory packs with repainted accessories for the lines are possible. Tooling a new weapon costs as much as tooling part of a figure.
- If a toy breaks after it's sold out, you may still be able to replace it as Mattel keeps 3% of all products for replacements.
- Man-at-Arms should be the first figure with packaging protection to keep the blister intact.
- Future DCUC 2-packs will have more esoteric , obscure in the future, things that might not have as much broad appeal at retail.
- All 4 Horsemen work together on all the lines. Movie figures take a lot longer than DC figures. The work on the lines happens fairly simultaneously. The sculptors move back and forth.
- Thundercats is not available for Mattel at this time. They are interested in doing the line though so they will pursue it.
- This version of Zodak will come with his gun. A future version may have his staff.
- The 30 inch Monitor for SDCC is hand made and hand painted. He is too expensive to tool.
- Playsets for Infinite Heroes are being considered.
- If GB sells well, they may do a 3 ¾ line.
- The 4 Horsemen try to balance articulation and the character's look. It's also done as needed, as with the Green Arrow's baled wrist joint.
- MOTC will focus for the initial version of a character on his original style, with re-releases having more modern paint schemes.
-JLU may have a Lobo figure released on Mattycollector. Matty can have characters that might be inappropriate for retail.
- Two MOTUC female figures will be released in the next year. The second one will be released in January 2010.
- There will be an unpainted proto-type later in the convention.
______________________________________________________________________________________________________________________
]