"Skeletor's Sword of Power"
"Kneel before your master! Fool! You are no longer my equal! I am more than man! More than life! I... am... a... god! Now. You... will... kneeeel! Kneeeel!"
weapon Specs:
Overall Length: 42 1/2"
Blade Length: 28"
Blade Type: Stainless Steel 440
Ornately Decorated Cast Metal Hilt
INCLUDES Custom Wood Display Plaque & Leather Sheath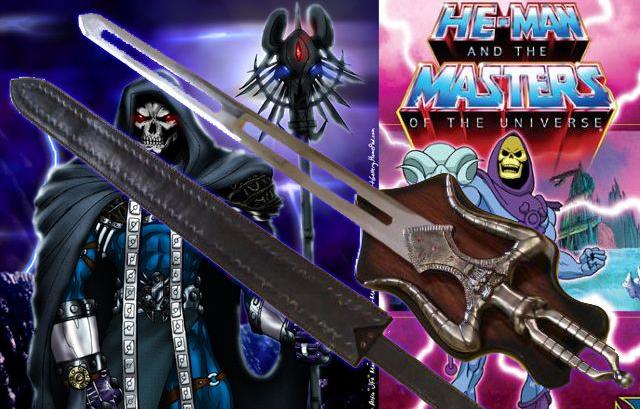 Sword of Power
In the original cartoon, Skeletor supposedly came from the dimension called Infinita. He is a blue-skinned, skull-faced warlord who rules the dark side of Eternia from Snake Mountain with an iron fist. He learned black magic from Hordak, the powerful warlord of Eternia's sister planet Etheria, of whom he was once the second-in-command. In the animated movie The Secret of the Sword, it is revealed that Skeletor betrayed Hordak after his forces were defeated, by telling The Sorceress and Man-At-Arms the way to Hordak's secret base. The two have been bitter enemies ever since.
Skeletor was formerly a warlord known as Keldor who trained under Hordak. He gathered a small band of warriors (Beast-Man, Kronis, Mer-Man, Tri-Klops, and Evil-Lyn) to attack the Hall of Wisdom. They encountered resistance from Captain Randor and his officers; Keldor fought Randor personally, wielding two swords with astounding proficiency, but when Randor disarmed him, Keldor threw a vial of acid at him. Randor deflected it with his shield, and the acid splashed on Keldor's face.
If your like most of us, your He-Man action figures are long since burned, broken, or shot up with your BB gun. Now we are old enough to wield a true reflection of our childhood villian - Skeletor's Sword of Power !