"He-Man's Sword of Power"
"By the power of Grayskull...I have the power!"
Weapon Specs:
Overall Length: 48 "
Blade Length: 38'"
Blade Type: Stainless Steel 440
Ornately Decorated Cast Metal Hilt
INCLUDES Custom Wood Display Plaque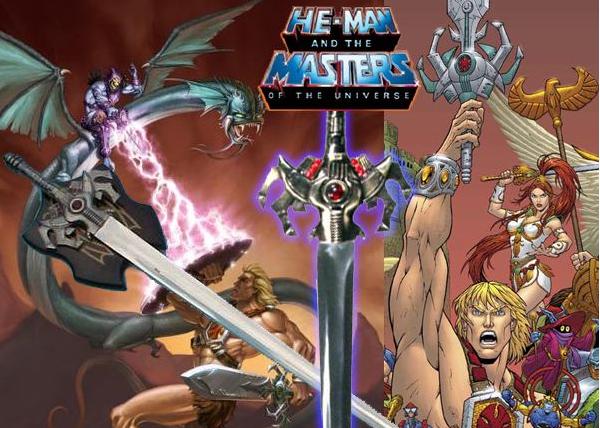 Sword of Power
He-Man ("The Most Powerful Man in the Universe") is a heroic fictional character in a toy series called Masters of the Universe ("MOTU") and the various spin-off products and media related to it. The most prominent is the animated series He-Man and the Masters of the Universe, produced by Filmation Studios. The syndicated series premiered in 1983 and ran until 1985, for a run of 130 episodes. In the series, He-Man and his friends defend Eternia and the secrets of Castle Grayskull from the evil forces of Skeletor.
The Sorceress of Castle Grayskull endowed Prince Adam with the power to transform into He-Man by holding aloft his magic sword and proclaiming, "By the power of Grayskull...I have the power!".
Prince Adam's pet is a cowardly green tiger named Cringer. When Adam changes to He-Man, Cringer becomes a giant (and brave) armored green tiger named Battle Cat when filled with the magical power cast from He-Man's sword. Battle Cat also serves as He-Man's steed and fierce fighting companion.
If your like most of us, your He-Man action figures are long since burned, broken, or shot up with your BB gun. Now we are old enough to wield a true reflection of our childhood hero - The Sword of Power !